Hear that wooshing sound?
That's me finishing ALL the papers.
In the next week, I have all my major papers due for all my classes.
I've spent a lot of this last week trying to get things as ready as possible, so that I can just concentrate on completing these papers.
In another week, it will be my baby's birthday, and then two weeks after that, I will be done with school forever.
Also, then I will be unemployed; I am not having much luck finding internships or jobs or much of anything. :[
Unfortunately, Wikipedia seems to be about as neutral a source as I can find for more information on it.
This act would allow states to impose a sales tax on items sold in that state, regardless of where the retailer is located, so long as the retailer has at least $1 million in gross receipts per year; this act is specifically targeting online retailers, which do not have to collect taxes in most states because they are not required to.
Supporters say that this bill will create a level ground with small businesses that operate brick-and-mortar shops that have to collect sales taxes.
Opponents
say that this would then make online-only retailers responsible for collecting and remitting as many as 10,000 different sales taxes, and compromises state sovereignty by allowing some states to tax those beyond their borders.
A more interesting point that WE R HERE, a coalition of small businesses, has made, is that the definition of small business used in the bill is totally incorrect; in trying to protect small businesses that are online-only, the bill is written to only apply to those businesses that have more than $1 million in gross receipts.
According to the IRS, the definition of a small business are those with less than $20 million in gross receipts, while the Small Business Administration defines it as businesses with gross receipts under $30 million.
I'm opposed
to the bill because of the above reasons, but also because it taxes businesses in places where they use no resources; if a business resides in California, then it is using California resources, and it makes sense to tax that business on sales they do within the state.
If that business then sold an item to a person in Oregon, it doesn't make sense to impose Oregon sales tax on that transaction, because the company hasn't used any of Oregon's resources.
Also, I would like to express how utterly irritated I am that Amazon is supporting this bill.
I like Amazon, but the only reasons its supporting the bill is to build barriers to entry, and because they now offer a service that collects and remits sales taxes for their clients.
The bill passed the senate just a few days ago, so it's looking like this might just come to be.
Oven French toast is one of the first things I made when I really started cooking for us as a family.
It has a special place in my heart as an easy, tasty, crowd-pleaser breakfast or dinner -- While the directions here are to let it sit overnight, you can easily make it in the morning and let it sit all day.
This variation calls for layering cream cheese in between slices of bread.
I used plain cream cheese, figuring we'd get all the sweetness from the maple syrup.
Instead of cinnamon swirl bread, I used a loaf of French bread, which Peter thinly cut for me.
I also made mine in a 9 x 13 inch pan, using 9 eggs and a dash of milk, vanilla extract, nutmeg and cinnamon.
The only issue I have with this recipe is that it calls for baking it uncovered; we did this, and the consistency of the top layer was too crispy.
Next time, I will cook it covered for at least part of the time.
Overall, this was a delicious breakfast that I will be making again.
Geeky Stuff:

Jarreth Riding a Unicorn, anyone? via Etsy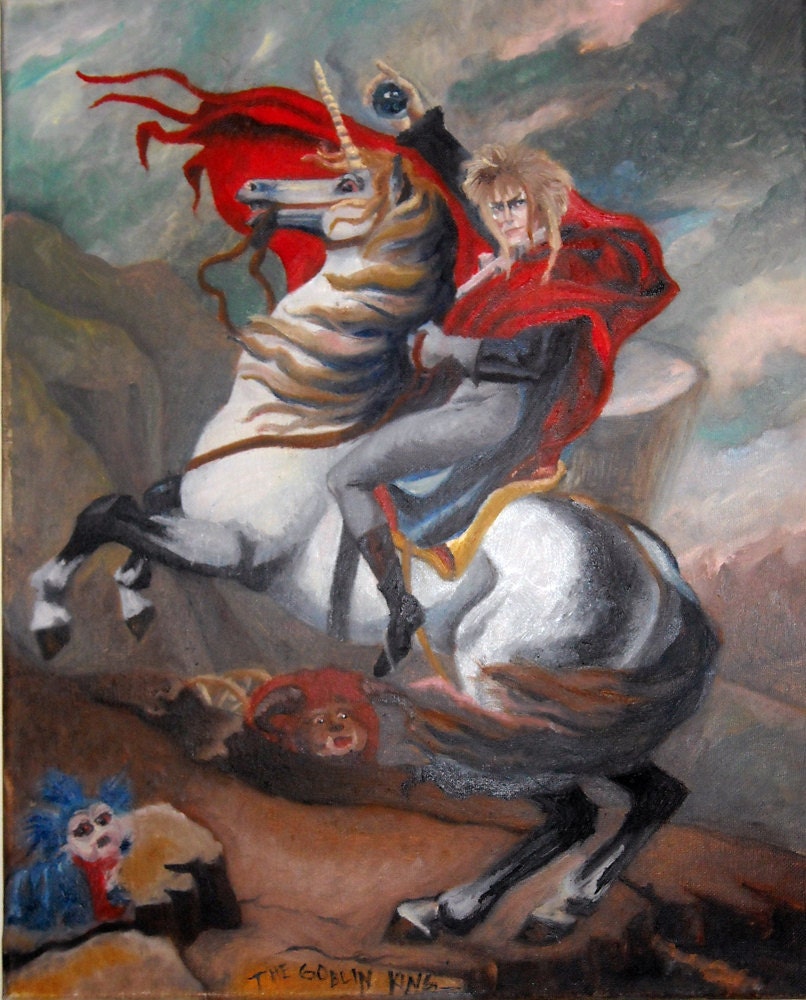 This came up on one of the mommy boards I frequent, because this woman was trying to decide what would be best for her brother for a wedding gift.
This was one of the options, and what an option it is!
I have no real reason to bring this up, other than to show its awesomeness.
These guys are also adorable, and would be great in a gift, along with a mug and maybe some real tea.
The website linked above is in French, but I did find some great tutorial and recipe on
the Compulsive Foodie blog
.
Until next week! :D