Not too much going on this week; still working on the internal analysis of my capstone project, which has been going quite well.
A few days ago, we took the kids back to Chuck E. Cheeses, and they had a lot of fun.
It's a pretty cheap trip, since we haven't been buying any of the [awful] food. Today, my baby is 11 months old, and is now walking short distances. It is horrible. D:
Target: Pregnant Women are Huge via everywheres
So, this made it all the way to the front of Yahoo!
Target, on this maternity dress shown above, described the color as "manatee grey".
For the plus-size only, no less!
I wonder if this was purposeful, or if some idiot somewhere thought that pregnant women like natural things, and the natural color of a manatee is grey, therefore a perfect color descriptor.
Next, there will be colors like "blue whale", I'm sure. :P
This past week, I got an e-mail from Tulle, a couture clothing company.
I love the vintage style they have, and would totally buy their dresses if not for one thing: the hem length is too short!
I just cannot wear dresses that are not at least knee length, it makes me uncomfortable.
Also, the things that I've bought from Tulle tend to fit a bit oddly anyway, and you have to pay shipping to return things.
So, while I love to window shop there, I don't generally buy anything.
But oh how I want that scallop dress.
WANT
.
As someone who'll soon be fresh out of college, it's pretty frightening to think that others, with more experience and education, are leaving the workforce because they cannot find jobs.
How nice.
And, of course, this particular author is blaming welfare programs for part of this, because as soon as you get a low paying job, you lose benefits.
So, people don't take the low paying jobs, because the after tax income doesn't make up for the non-taxable benefits you lose.
Neither is what I'd call a sustainable way to live.
Cooking: Loaded Cauliflower, via Linda's Low Carb Recipes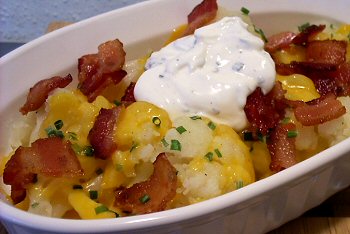 Recently, I've been experimenting with cauliflower, just for a change of pace. I don't generally eat it, and never have, to be honest. Yesterday, I made "loaded" caulifower, and while I had this recipe, I totally did not follow it. Instead, I chopped up my cauliflower small, daubed on some ranch dressing, added a sprinkle of cheddar cheese, and popped it into the oven for about 30 minutes. It came out surprisingly good, and I think the addition of bacon or ham would really perfect it. The husband and I liked it, while the kids mostly just poked at it. This one I will make again.
Netflix has just offered the fifth season of Mad Men this past week, so I'm watching it.
I haven't loved all the plot twists (Don Draper's backstory makes me roll my eyes), but I do enjoy the interaction between the characters, and looking at the fashion, if nothing else.
My favorite character is probably Harry Crane, the firm's director of television marketing.
So far this season, we haven't seen much of him, but I still have another 10 episodes to go, so there's hope. :)
(images via Yahoo! news, genaw.com, browntweedsociety.wordpress.com)