This week has been pretty slow. I've spent a few days visiting my parents, which has been nice because I lived like a hobbit for the last month or so of school. Today (Saturday), I managed to get some items ready to be listed on eBay, which is an achievement considering the last few days. Thursday, my middle son threw up while at my parents (still no idea why), and since that evening, my littlest has had a fever ranging from 101-102+ degrees. He's been fussy, but otherwise okay.
I applied to a few jobs locally, and have another possible opportunity in the pipeline, so that's good. I am anxious to get some kind of employment, with the hope of being able to leave behind apartment living. I genuinely, truly hate the thought of moving, but living in this apartment is the pits.
WoW: Pandaland Review
This last Saturday (Sunday?), the husband installed the newest expansion of the World of Warcraft franchise, The Mists of Pandaria, which I'll refer to as "Pandaland". It's my opinion that Pandaland was old before it was even released, due to the popularity of Kung Fu Panda way back in 2008. The public has already had martial arts panda characters. Give us something new. Along with the expansion of the world setting, the Blizzard team further streamlined talent trees and abilities, which creates less flexibility for a character; it does prevent you from inadvertently breaking your character, though. Since we've only been playing less than a week, the husband and I have yet to get into the new dungeons, challenges and scenarios, as well as the pet battles. The pet battle thing also makes me sad; it's like Neopets. Or Pokemon. If I wanted to do those things, I would go play Neopets or Pokemon, not WoW. Why did Blizz do this? Why? The more I look at Pandaland, the more I think that a bunch of execs got into a room and said "this would be cool, let's do it!" without really examining the ideas closely.
Also, for whatever reason, the male pandas are quite rotund, while the female pandas are slim. Mind you, by "slim" I mean "normal person", but compared to most of the other races, she is a plus-sized model. The male fanbase demands sexy women, thus the female panda is curvy rather than appropriately plump.
So far, I am not so impressed with the newest expansion. Will update next week.
TV: Ramsay's Best Restaurant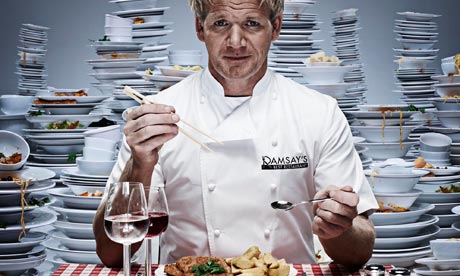 I ran out of the British Kitchen Nightmares series on Netflix, so I started on Gordon Ramsay's other series, in which he searches for Britain's best restaurant. I would be watching the U.S. version of Kitchen Nightmares, but it isn't subtitled, which is a requirement when watching it with children about. Ramsay's Best Restaurant is all about pitting one restaurant that serves traditionally styled foods versus one that pushes the envelope; these restaurants serve the same types of foods (Italian, Indian, Thai, etc.), but how they go about it is vastly different. Each restaurant is put through a series of tests, like feeding 30 diners at once, and being visited by a difficult undercover agent, then one restaurant is allowed in to the semi-final. Nearly all of these restaurants have service issues, which is pretty staggering considering that these are suppose to be some of the best in the country. Part of this is because service is hard to measure, while things like quality and taste of food isn't.
Not much else goin' on this week. Next Saturday is my birthday, and I will make sure that I take photos of the special cupcakes I'm making. :D