I woke up yesterday morning and realized I hadn't written a word for this post.
Normally I start about Thursday or so, writing about whatever I've already got.
This week, though I've had all my major papers due and that has made the week rather nutty.
I have feedback for two of my papers already, though, including my final capstone paper, which got a score of 97!
Whooo-yeah!
My teacher had to go through half the paper before he found a mistake. :D
Shopping: Merona Red Trench Coat
This week at Target, I went shopping for a new pair of slacks for my capstone presentation.
While I did buy a pair of slacks, the highlight of the trip was this beautiful red trench coat, on clearance for $18.
I put it on, and my husband made the comment that all I needed was a red hat – then I could be Carmen Sandiego!
So now Pete and I are planning on dressing up as Carmen Sandiego and one of her goons for this coming Halloween.
I'm voting Peter dresses as either Baron Wasteland or Baron Grinnit – an aristocrat with an eyepatch, or a fighter pilot.
Either way, I think it will be brilliant.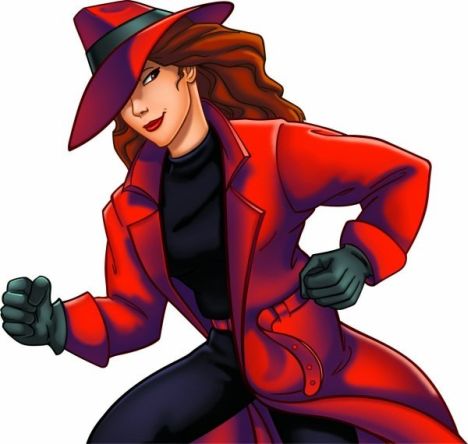 After picking up the coat, I went a-Googling for photos of goons.
I gotta say, you find the oddest things searching for Carmen Sandiego, like this review for a film titled The Limits of Control, directed by Jim Jarmusch and starring Tilda Swinton, Bill Murray, and John Hurt, among others.
Overall, it doesn't sound like a film you'd watch on purpose, but the author of the review points out that the meaning of the film is open to interpretation – so he preferred to imagine it as a live-action Carmen Sandiego.
I suggest you follow the link to the review and read this section of it, because it is hilarious.
I accidently came across this nonprofit, which is funded by large tech companies like Google, Twitter, and eBay.
The idea is to encourage young women to pursue education and jobs in the tech sector by teaching them programming, robotics, web design and so on.
I think this idea is a really great avenue for getting women to take that first step towards a tech career.
As a previous computer science major, and someone who still loves coding, I think programs like these are incredibly important.
This year, they are operating programs all over the U.S., including here in San Jose.
The organization's website
is a little obtuse, and I'm actually kind of annoyed that there isn't a more direct way to get in contact with them to volunteer; they only seem to have options if you are currently working with an organization or company.
Maybe this next week I can work on finding contact information about this, because I would really love to volunteer.
TV:

Ramsay's Kitchen Nightmares via Netflix
I started watching this show on Netflix on a whim.
I have to say as a warning, though, that if this show were bleeped out, there would be very little dialogue left.
However, I like that it looks at the restaurant as a business, not just looking at the quality of the food.
Gordon Ramsay goes to these failing businesses and looks at the management, the marketing, and the operations.
He looks at whether the restaurant is selling food that the local people want to buy, if they are overpriced, if they are using ingredients or wasting them, if they have local, inexpensive sources for food, if the staff is managed well, and so on.
It's pretty interesting to watch from a business student perspective, and I think it's entertaining as well.
That's it for this week.
Tuesday my littlest will be turning one!
I don't know that we'll be doing anything formal for him until school gets out on the 16th, but I was planning on cooking him some oatmeal and banana cookies.